Dive In Movie Party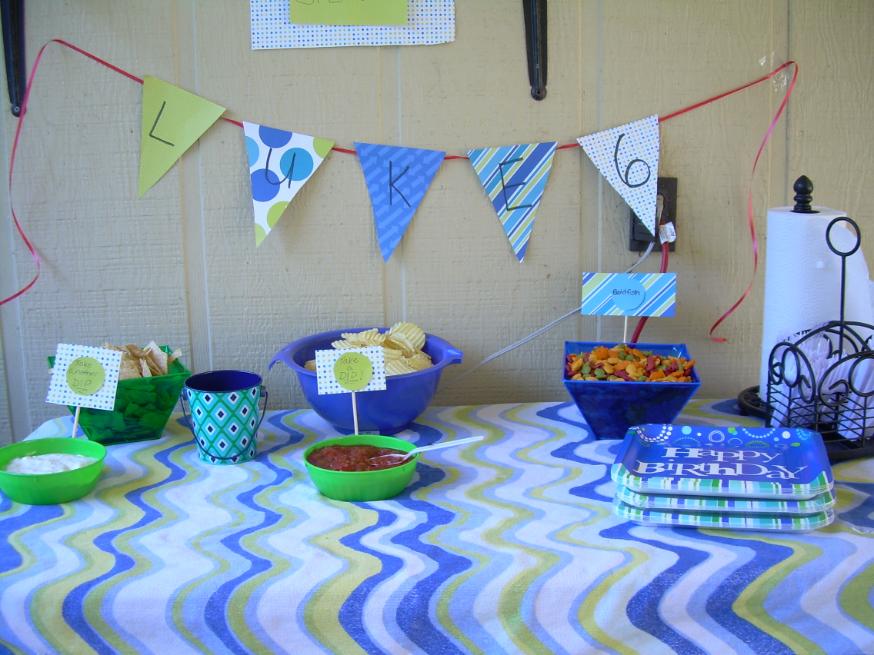 Hosting a party can add up quick. I love to have parties. I love celebrating the lives of my children. I always want their birthdays to be special. I've had to research and learn some creative ways to host inexpensive parties they will remember.
Decorating:Theme Royal Blue and Green

Scrapbook paper~ $1.00 pack of 8 sheets/Target
streamer- I had
Table cover~ beach towels I had
OOL Water!!
My Homemade Banner for Luke
Take a Dip sign
Take another dip. I had two different chips and dip options.~ Bowl~ 4 pk from Dollar Tree(I already had these for the boys summer Kids cabinet)

Of course, we had to have goldfish at a swim party!~ bucket from the Dollar Tree

Food:
Plates~ clearance walmart
burgers, chips and dip, fruit from garden
Cake~ Simple Ice Cream Cake
Entertainment:
Pool~ just a small set up pool:(there were lots more kids than this)

And a baby pool for the little ones:
Jack wanted me to help him slide~ I found a dress at Goodwill to match the party!

Outside movie~ Old large Tv and VCR set up in garden with blanket and chairs:
The movie was very awesome at night. The camera wouldn't take great night shots.
Birthday Boy~ Luke~ Had a great birthday!