Valentines Day
~ In the boys "love bucket"

Children:
For some Valentines' Days is just another day. To me, it's an extra special day to show those I love how much they mean to me. We shower the kids with love everyday, but make it extra special on this day. I teach the kids how they can show their love to others, also. I don't get into the commercialism of the holiday, the dozen roses, box of chocolates, and cards galore. I teach the boys creative ways to show their love for one another. I also do not go overboard on the money issue... I do things as frugal as possible. Love is not associated with money.
My favorite website and magazine for kids crafts is Family Fun. Click on the link below for some great ideas to do with your kids the week before Valentine's Day
.
Teacher Gift Idea:
Floral tape wrapped around pens with a silk rose on top.
Tie a note to it that says,
"Here's a bouquet of roses from me to you, Because I thank you for all you do."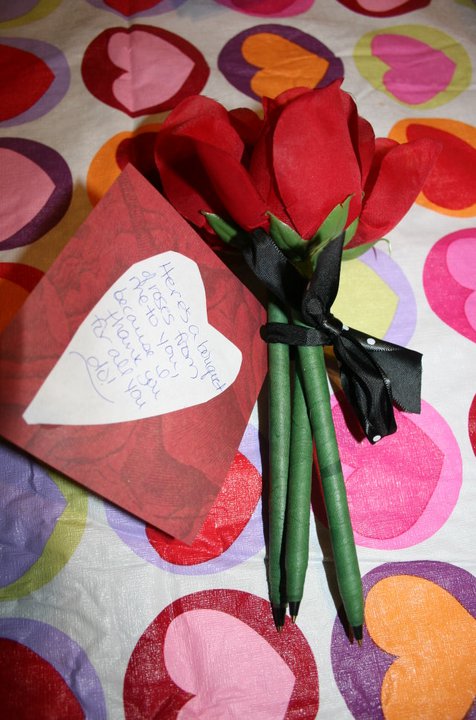 This is what I do for the kids on Valentine's Day:

1. Heart Shaped Pancakes~ divide pancake batter in half. Add red food coloring to one half. Make pancakes and cut heart shapes out of the middle. Be careful not to mess up the circle. Switch the hearts in the different colored pancakes, like a puzzle.(See picture below). Decorate with strawberries on side.


Mini hearts for little fingers

I usually make these pancakes for Valentine breakfast. This year we had a special breakfast at school so I made these the night before.


I made a huge batch of pancakes. I made half of the batter. Then I put red food coloring in the last half of the batter. I used different cookie cutters to make the shapes. And I swapped out the colors and made several designs.


Cute heart within a heart.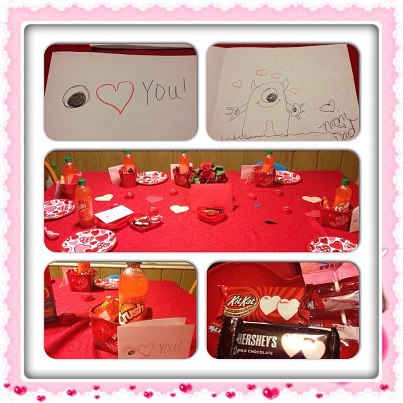 2013 breakfast with theoi Love Buckets full of candy , a Crush drink, and a homemade monster card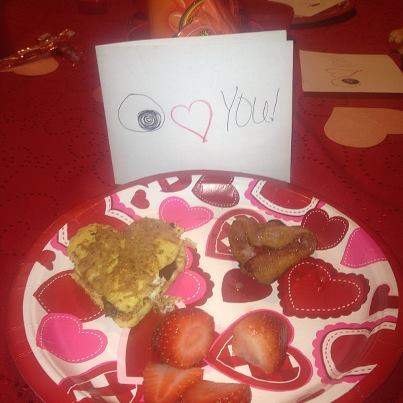 Breakfast for 2013~ nutella and strawberry stuffed french toast hearts, heart shaped bacon, strawberries
Here are some after school treats I made for the boys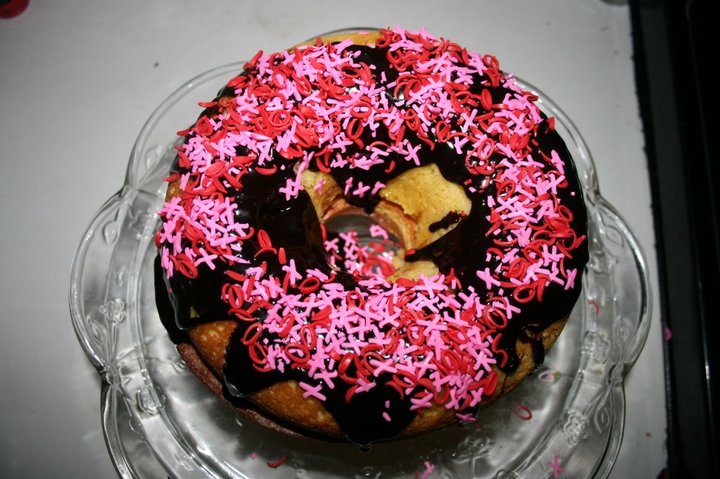 Donut Cake(I used a silicon mold) with ganache and sprinkles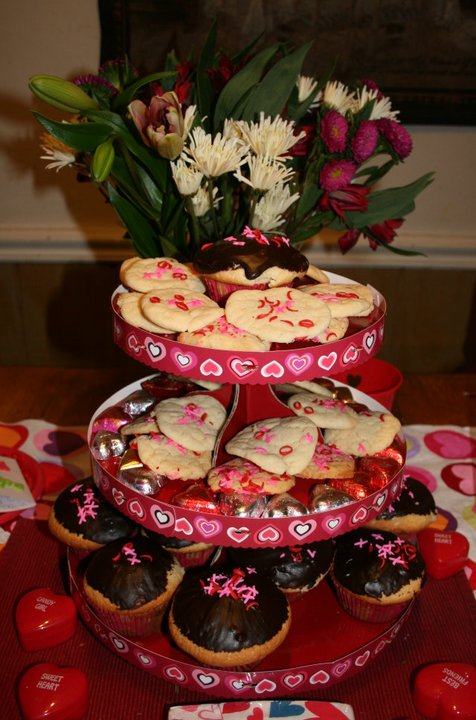 Cookies and Cupcakes with sprinkles
2012~

~ Heart shaped brownie bites drizzled with chocolate and sprinkles
~ Tower of treats topped with chocolate dipped marshmallow pops
~ Chocolate dipped oreo pops
~ chocolate dipped strawberries
~ Chocolate covered strawberry Pie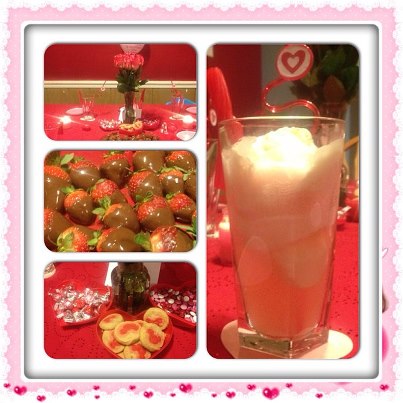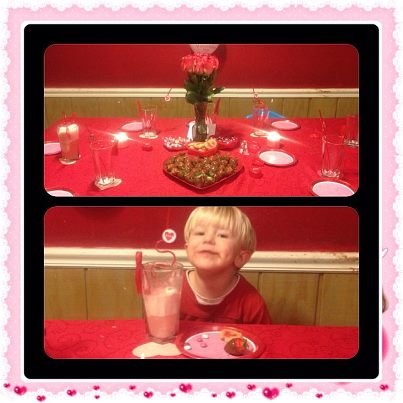 ~Valentine Float(cherry 7-up, vanilla ice cream, twizzlers), Mickey cookies, Kisses, M&M's, chocolate covered strawberries, and It's Jack approved!
2.
Red heart Shaped Boxes or "Love Bucket"
~ I bought each of them red, heart shaped boxes/buckets. I fill them with candies, homemade valentines cards, and sometimes coupons. Coupons like "No chores today!", "Ice cream date with mom and dad", " Go to movies with a friend", etc...
3. Lunches~ everything is heart shaped and red! Cut sandwiches, cheese slices, brownies cut into heart shapes. Red food coloring in pudding or yogurt. I also add a Valentine card I made for them! (I do not do this for my older children! They would be more than embarrassed!!)

4. School lunch treats~ I pass out lunch treats at school. Valentine snack cakes, cupcakes, cookie cakes, etc...

5. Valentines Day Dinner~ make a family favorite homemade meal. or order in from a favorite restaurant

6. Valentine Dessert~ Ice Cream Brownie Sundae- brownies cut into heart shapes, ice cream shaped into hearts(using a cookie cutter). Layer brownie, ice cream, then another brownie. Drizzle with chocolate syrup and decorate with chocolate covered strawberries. *Can you tell I am a major choco-holic? Thank goodness my kids love chocolate, too!*
7. Valentines day on the weekend~ If the kids do not have school we make it an extra special day with them. Picnic at the park, go to the movies, have movie night,etc....

8. Decorating~ After Valentines day one year I bought a lot of stuff on clearance. Plates, heart boxes, kids valentine table cloth, and candy heart string lights. I also hang hearts that they have made the week prior. I like to decorate while they are sleeping. So, when they wake the next morning they are in awe. I do this every year, but they still love it and talk about it! Kids thrive and love routine!

9. Valentine's Craft~ I do valentines crafts with the boys the week before. We make hearts, valentines for close and distant relatives, valentines for each other(mom, dad, and brothers).Family Fun magazine is my favorite idea spot for crafts!