Romantic Camping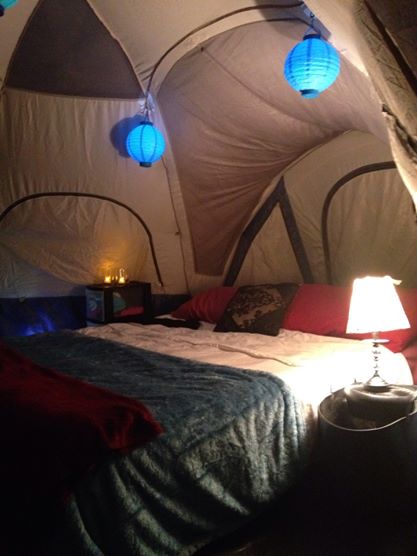 Romantic Camping is a very simple, inexpensive, and fun getaway. Here are a few tips to have the best trip
1. Camp: Research and plan where you want to go. Think about the activities nearby. Hiking, biking, swimming, kayaking, canoeing. Nature is the closest you can get to God. And the best way to get closer to your spouse.
2. Food: Pre-make foods, store in Tupperware container, and freeze everything before the trip! Grill over the fire to make this very simple. Or take a very small portable grill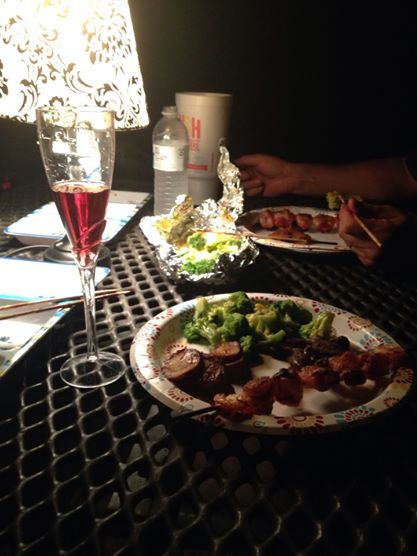 Food:
1. Plan simple romantic meals for two. Pinterest is full of ideas.
2. Make ahead desserts and s'mores
4. Campfire strawberries or Bailey's dipped marshmallows are a romantic treat

breakfast: campurritos- low carb tortilla with scrambled eggs, sausage, cheese, and shredded hashbrowns. rolled up and wrapped in foil./Heat over fire. Oatmeal- store oats in a baggie with a few dashes of cinnamon. Serve with berries./ Heat water. Put oats in a cup or mug, add water, cover for 5 minutes.
lunches: Warmer months: grilled sausage/ turkey roll-ups/sandwiches, salsa with blue corn ships, hummus and veggies, fruits. Think simple and refreshing. Colder months: soups or sandwiches in pie iron over campfire. look at CAMPING for specific ideas. Use Stanley thermoses
dinner: steak strips/ bacon wrapped shrimp/ marinated chicken- put on skewers, wrap in foil, put in Tupperware container and freeze.
Sides: broccoli and cheese, cauliflower with crumbled bacon and cheese, sliced sweet potato circles with cinnamon and butter, cream cheese stuffed, bacon wrapped mushrooms.
drinks: simple water bottles(freeze and use as ice blocks for the cooler!)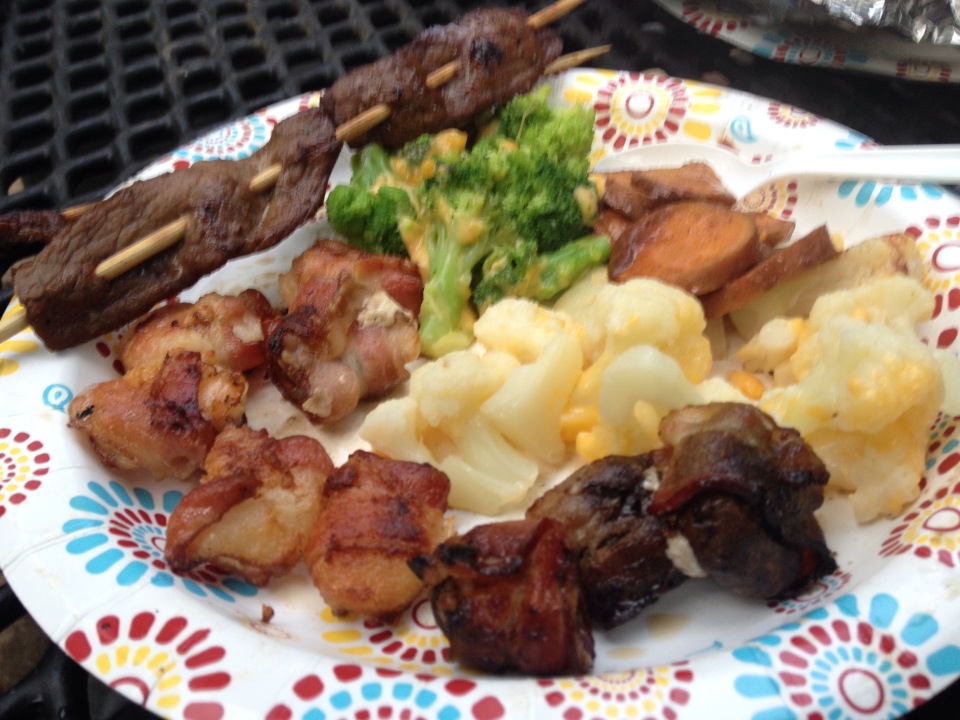 3. Tent Sleeping: Keep simple comforts.*Please no fire in the tent!!! And place the tent away from the campfire*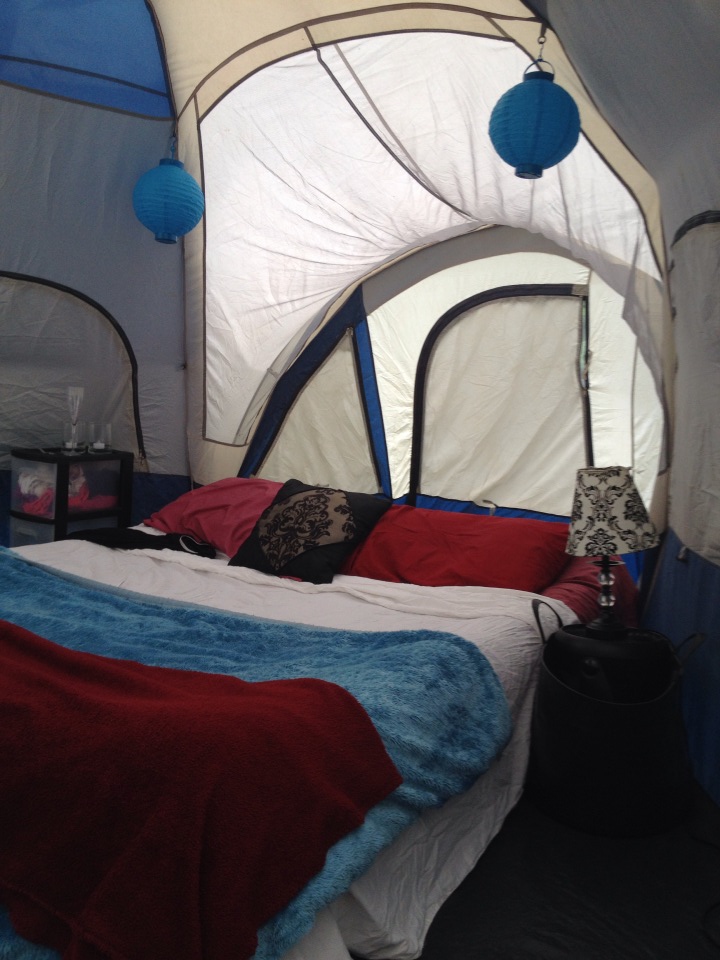 Air mattress and bedding- I store all of our sheets and pillows in a round plastic tub. Unpack, air up the mattress, make the bed with layers of sheets and small blankets, and pillows
Romantic atmosphere- battery powered lanterns hang from ceiling of tent, battery powered candles in candle holders, and a lamp that matches décor.
Side tables- Three drawer unit: A drawer for my clothing, tents lighting stuff, toiletries. The bedding tub: fan leaned over to the hold the lamp up. Turn lamp off and turn fan on for the night time. You could have a drawer set on each side of bed, but we try to pack the least as possible.
Other:
We have a topper we put on our truck. We use an air mattress, pillows, sheets, blankets. You can also do this without the topper for full open air camping.




Set up tent in bed of truck



You can purchase tents that can be set up in the bed of trucks. Prices start around $150.00
4. Have Fun: Couple that have fun and laugh together, stay together! Hike, bike, kayak, swim!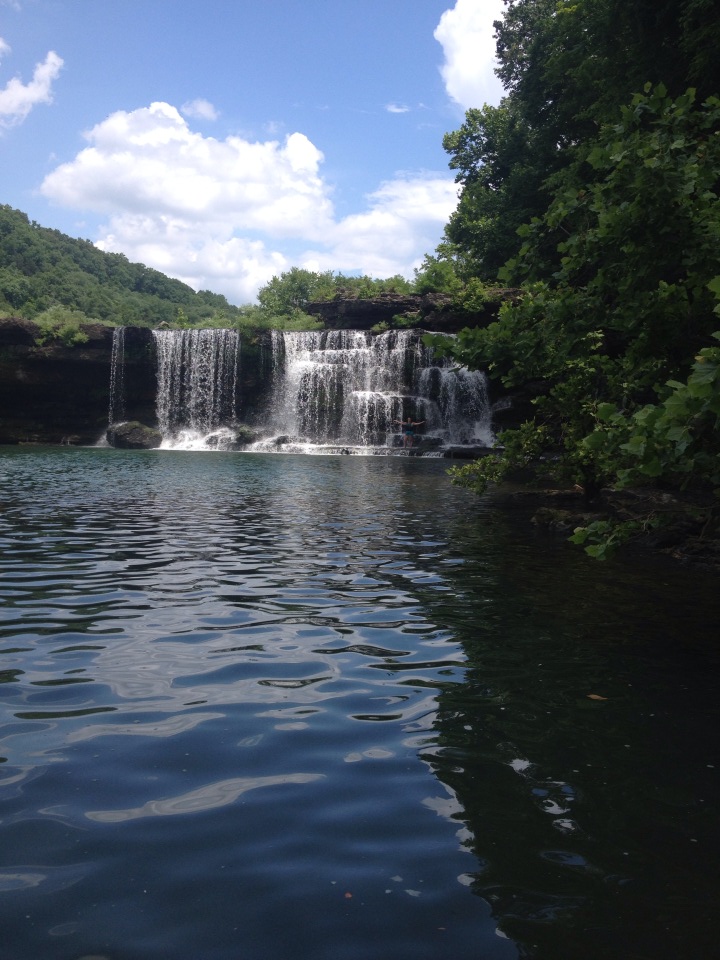 Area/Scenery:
1. Pick a secluded spot
2. Find a spot near the water, river, waterfall, or with a great view of the sunset
3. Stay somewhere you explore, instead of hanging out at the campsite. Hiking trails, caves, canoeing, kayaking
4. Romantic camping destinations
HERE
5. Relaxation Time: Take a hammock along and tie between trees. This is such a relaxing way to snuggle and talk! Even this would be awesome to lay in while the fire is going at night. * Keep hammock away from the fire* ( I realize this is not a flattering picture of us below, but I wanted to share how awesome the snuggle time is!)
Other:
2. Bring a pretty tablecloth and candles
6. Nighttime: After sharing a romantic meal, light a campfire and snuggle. Enjoy conversation under the stars. On a blanket or next to each other in camp chairs.
Have Romantic Trip!