At Home Dates
I had a friend tell me she hardly has dates with her husband because they can't afford it. This hurt my heart. You can have memorable times with your spouse and it won't cost a thing! It's very important to have quality alone time with your spouse. You can spend time alone together after the kids are in bed or if they are quietly watching a movie.
Here are a few of my favorite At Home Dates
1. Candlelit dinner after kids are in bed:

Make a meal together. Chop vegetables as you have a real conversation(no kid interruptions!) Meal ideas:
We love to have our meals on our front porch or back patio when the weather is nice, with a fire in the fire pit.
2. Watch a movie
Rent a movie from Redbox. Watch a movie from Netlfix.
Romantic Comedies are my favorite(and men love them, too!)
Sleepless in Seattle
You've Got Mail
When Harry Met Sally
Hitch
Roxanne
10 Things I Hate About You
How to Lose a Guy in 10 Days
Kate and Leopold
Jerry Maguire
Pretty Woman
Say Anything
The Princess Bride
3. Coffee & Dessert Date
Make decaf coffee, latte, or favorite drink
Make a great dessert to share: chocolate cobbler, ice cream sundaes, cheesecake, pie, brownie a la mode, chocolate chip scones
Our favorite places to share this dessert: in bed, on the front porch, on the back patio, by the firepit
4. Blanket Under The Stars
Find a great place to lay a blanket out in your backyard.
If you have a truck, blow up an air mattress in the bed of the truck and top with blankets and pillows.
Lay under the stars for the perfect setting for conversations
5. Play a game
Find a comfortable spot: bedroom, living room floor, outside patio table, kitchen table.
Play a fun board game: Scrabble, Battle of the Sexes, Would You Rather?, Truth or Dare, Couple Links, Apples to Apples, Dirty Minds
6. Fire Pit & Drinks
Sit around the fire pit or small bonfire with quiet conversation. Enjoy your favorite drink.
7. Couples Spa &Massage
Light candles in the bathroom and give each other the ultimate spa treatment. Cuddle in a warm bath. Give foot rubs.
After the relaxing take turns giving each other massages.
8. Build a Love Shack
Gather sheets, blankets, pillows, string, tacks and build the ultimate love shack.
purchase a canopy HERE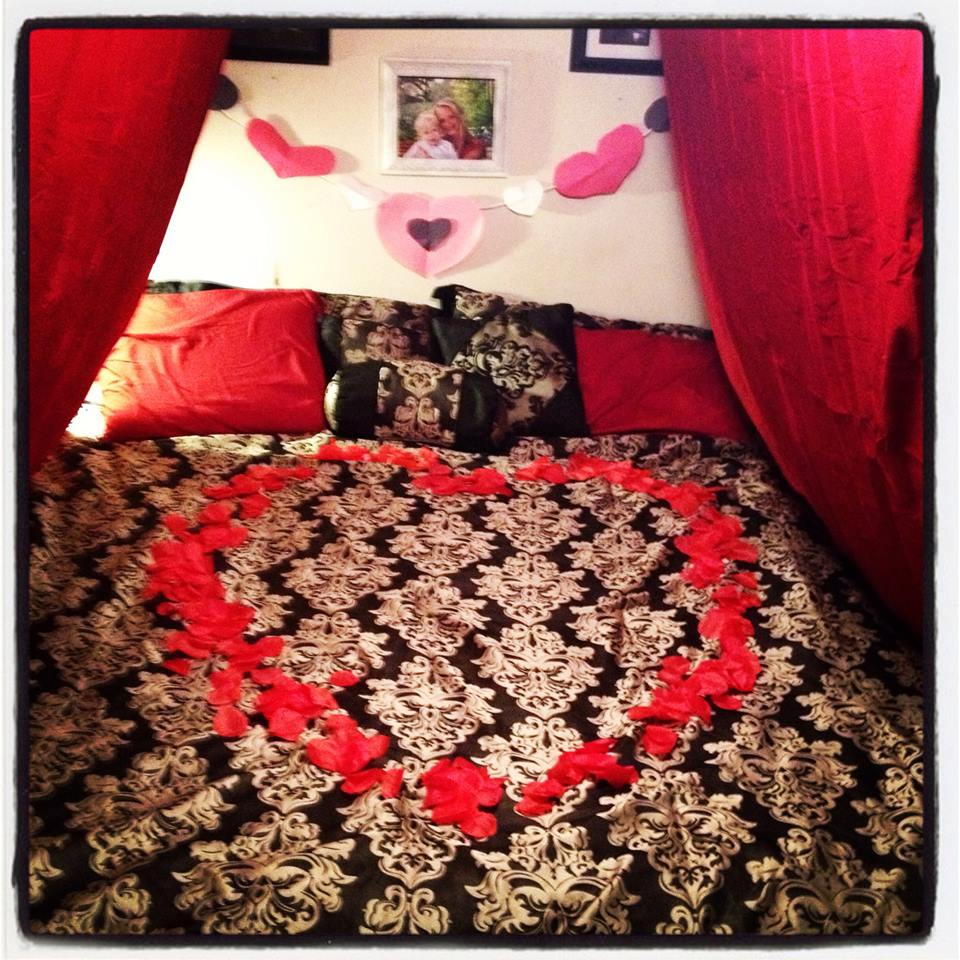 9. Backyard Camping
Set up your tent for two with air mattress, lots of fluffy blankets and pillows, and lanterns. Sit by the campfire under the stars and spend all night in the tent.
*Set up in your living room if you are unable to go outside*
10. Glow Tag
Looking for some active fun? Get glow sticks or flashlights and play tag in the dark.
11. Pub Night
Make or order in Wings. Set up a dart board and play a few rounds.
12. At Home Concert
Buy a new Cd/Album together. Listen to it in your bed, living room, or outside under the stars
13. Workout!
To make it fun, have a challenge on who can do the most sit-ups, push ups, jumping jacks,squats, jump squats
14. Walk Down Memory Lane
Break out the old photo albums and reminisce. Watch old home movies, too.
15. Appetizers and Fireplace
Make all of your favorite appetizers or finger foods. Enjoy them sitting by the fire.
16. Chocolate tasting
Buy assorted chocolates and enjoy tasting the different ones!
17. TV Show Marathon
Pick a show you've never seen before and have a marathon. Make sure you don't need to wake early the next morning!
18. Theme Night
chocolate: Rent Chocolat, eat chocolate, draw on each other with melted chocolate



sports: watch a game, eat hot dogs and cokes and nachos
Chinese: order Chinese take out, watch Chinese movie( Enter the Dragon, Forbidden Kingdom, Mulan, Coruching Tiger, Hidden Dragon)
Paris: Rent a movie(Midnight in Paris), eat French Onion Soup & Eclairs
Italian: The Italian Job or The Godfather, pizza, gelato
Anime: eat Sushi and watch a Top 10 Anime movie look here---> http://www.greenteagraffiti.com/the-10-anime-movies-you-should-watch/
19. You Tube Night
Pop some popcorn and take turning picking a category to watch on You Tube
20. Play Strip Poker
No explanation needed.
21. Virtual Museum Tour
Louvre---> http://www.louvre.fr/




National Gallery Of Art---> http://www.nga.gov/content/ngaweb/Collection.html



Smithsonian---> http://www.mnh.si.edu/museum/VirtualTour/

More Fun Dates at:
The Dating Divas.com/date-nights/at-home/